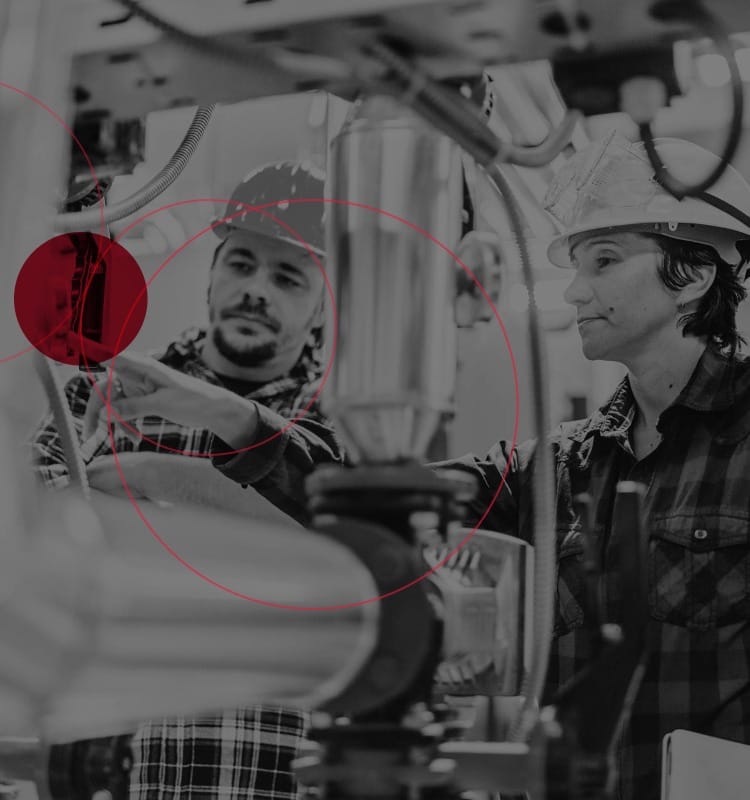 Frequently Asked Questions
Discover instrumentation and control answers
Blog/Articles
Enhancing Media Compatibility
This whitepaper provides an overview of the functioning of different pressure instruments and emphasizes the importance of material compatibility with the media and environmental factors. Click here to access the whitepaper.
Pressure
How do I choose the best pressure switch for my application?
Barksdale offers a variety of pressure switches, ranging from compact to bourdon-style switches that would be suitable for numerous applications. Click the link here to view the Barksdale Supplemental Guide on how to select a pressure switch. This guide will give insights on deadband (actuation and reset values), limit switch current ratings and troubleshooting pointers.
My part number ends in –S(xxxx) or –Q(xxx). What does this mean (e.g., 96201-BB2-S0035)?
–S(xxx) indicates that your switch is calibrated to a specific setpoint from the factory, and –Q(xxx) indicates special modification beyond just the pressure range.
For additional information about your part number, please contact your customer or technical support representative here: https://www.barksdale.com/en/contact/contact-info
How do I adjust a mechanical pressure switch?
Most pressure switches are field adjustable, unless otherwise selected to be factory set and permanently locked. Click here to view an instruction sheet that explains how to adjust a differential, vacuum or pressure switch.
Temperature
Is my temperature switch rated for DC voltage?
DC rating will vary on the type of temperature switch and limit switch selected. Click the link here to review the DC electrical rating (page 3).
I need a custom temperature switch. Can you help?
Yes. All you need to do is provide Barksdale with a full definition of your temperature switch control problem with pertinent information, including your target price. Upon acknowledging the feasibility of the project, Barksdale will submit to you a sample or drawings. We can then get together and discuss any variations or modifications yet required. These changes will be incorporated into the design in order to transform your temperature control problem into a new custom temperature switch.
When do I need to use a hermetically sealed switch?
Barksdale hermetically sealed temperature switches were created for use in hostile environments where exposure to elements such as salt air, hydrogen sulfide and other corrosive agents and atmospheres might cause contact deterioration and switch failure. The switch elements meet the requirements for Class I, Division II hazardous areas.
How do I adjust a temperature switch?
Click here to view a document that details adjustment instructions.
Valves/Regulators
What is the difference between an interflow valve and a non-interflow valve?
Interflow valves have some internal leakage that goes straight to drain; non-interflow valves have no internal leakage.
Why don't you sell valve actuators anymore?
We have transitioned into a valve with an integral actuator inside the housing called Series II.
In regulators, what does self-venting mean?
There is a pathway in the regulator that opens up automatically when the pressure increases beyond the set pressure.
Dynalco
How do I calculate gate time?
Gate time can be calculated by two methods:
Gate time = 60 ÷ (number of teeth or gear discontinuities)
Gate time = (maximum RPM) ÷ (equivalent frequency in Hz at that RPM)
How can I get assistance on selecting the right product for my application?
What is your warranty period for Dynalco magnetic pick-ups?
Dynalco magnetic pick-ups carry a lifetime warranty free from manufacture defects and guaranteed trouble-free operation.
Where can I find the agency approval ratings on my Dynalco or Barksdale product?
By retrieving the data sheet on our website, Barksdale.com, where all agency approval types are listed, or going to the Agency Approvals section here to see the actual agency approval file itself: https://barksdale.com/en/approvals
How do I install a magnetic pick-up?
The recommended air gap between the pole piece of the magnetic pick-ups and the gear tooth is 0.005 to 0.025 inches.
IIoT
What is IIoT?
The industrial internet of things, or IIoT, refers to the billions of industrial devices — anything from the machines in a factory to the engines inside an airplane — that are filled with sensors, connected to wireless networks, and gathering and sharing data. By providing extremely detailed data in real time, the IIoT can help companies to understand their business processes better and, by analyzing the data coming from sensors, can make their processes more efficient.
What are IODD files, and where can I find them?
What kind of communication protocol is used by the BiT Series 450 and 450X?
HART® protocol provides additional information beyond the normal process variable. It offers diagnostic, device status and other calibration capabilities, including remote span adjustability and zero trim. HART communication protocol provides all this information, digitally, with no changes to the existing pair of 4-20 mA wiring. The digital signal is superimposed on the 4-20 mA current loop and is supported by all major programmable logic controller (PLC) manufacturers with a simple input/output (I/O) module upgrade.
Level
What process connection configurations do you provide?
Barksdale's LevelSite is a unique system that can be custom designed for many types of applications, from a stand-alone, no-power-required level indicator to a fully integrated electronic component within a process control system. It can be supplied with process connections located for any of the four standard patterns: top/bottom, top/side, side/side or side/bottom. For applications where tank-side mounting of LevelSite is not practical or desired, top-mounted versions are available. Liquid interface configurations require three process connections.
What material is the LevelSite rotating flag housing constructed of?
LevelSite's rotating flags are mounted in a housing fabricated of extruded aluminum or polycarbonate. The assembly is attached to the outside of the float housing with stainless steel clamps. The ends are sealed against dust and moisture.
I need to activate an alarm when the liquid in my tank reaches a certain level. Can I do that with LevelSite?
Yes. Barksdale offers a line of limit switches that can be positioned on the outside of the LevelSite float housing to activate alarms, pumps or valves when the liquid reaches high, high/high, low or low/low levels. The number of switches that can be attached to the LevelSite float housing is limited only by the available surface on the housing. With a ring magnet float design, limit switches can be located at any point 360 degrees around the housing. This flexibility allows other control components to be mounted at the same critical level.
Can't find an answer?
Let's work together to design optimized instrumentation and controls for your application and special requirements.